Michelle A. Riklan, Managing Director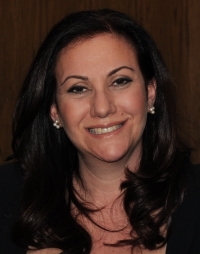 Michelle A. Riklan holds a B.A. in Theatre, English Literature and Speech Communications from Hofstra University. While beginning her corporate career, she pursued and completed a M.A. in Speech and Interpersonal Communications from New York University where she also served as an Instructor in Voice and Diction/Public Speaking. Utilizing her education and presentation skills, she continued a career path in Human Resource Management. Her generalist background is all inclusive, but her areas of expertise include employment, employee relations and training and development.
With a combined 25 years of in-house corporate and targeted consulting experience, Michelle services large corporations as well as small businesses and individuals in all aspects of human resources and career management. As a consultant, she has had the opportunity to work in a wide range of industries including advertising, publishing, healthcare, pharmaceuticals, financial services, E-commerce and much more.
Certifications/Training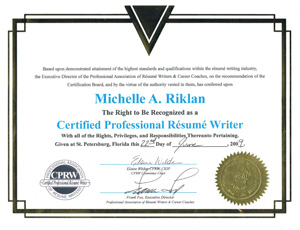 Michelle is an internationally recognized, award winning resume writer and a member of several prestigious career, training, and resume writing organizations. The resources and support afforded by being a member if this industry/community is plentiful and allow her clients to reap the benefits of these affiliations. Resumes created at Riklan Resumes are unique, tailored for each individual client and receive the individualized attention that such a service deserves.
As a Certified Professional Resume Writer (CPRW) and Certified Employment Interview Consultant (CEIC), Michelle has written hundreds of resumes and coached clients through all phases of the job search. Her resumes get results!
As a trainer and facilitator, Michelle provides her corporate clients with multiple options for engaging and interactive programs. Her positive reputation has been earned by her ability to work with organizations to identify their training needs, and to then deliver customized training that has an affirmative impact for both the employees and the company.
Michelle's training as a DISC administrator and Myers-Briggs assessment administrator is a benefit to her clients to gain insight into a person's behavioral style, which impacts a client's chosen career path. She works with her clients to identify specific talents, capitalize on a client's talents and his/her potential and continuing value to an organization and offers tools to improve interpersonal skills and interviewing performance.
Memberships
Michelle is a proud member of the Society of Human Resource Management (SHRM), American Society of Training and Development (ASTD), Professional Association of Resume Writers/Career Coaches (PARW/CC), The National Resume Writers' Association (NRWA), National Career Development Association, (NCDA) Career Thought Leaders (CTL), and Career Directors International (CDI).
Self Improvement OnLine
Michelle is also a co-founder of Self Improvement Online, Inc. a privately held, New Jersey-based Internet company. The company's mission is to provide informative, quality self improvement and natural health information to help people improve their lives with information ranging from goal setting and stress management to natural health and alternative medicine. The network is composed of four websites,  SelfGrowth.com,  NaturalHealthWeb.com,  SelfImprovementNewsletters.com and NaturalHealthNewsletters.com. Self Improvement Online's websites receive over 1,200,000 unique visitors a month and e-mail Newsletters or e-zines go to over 950,000 weekly subscribers. The websites and newsletters are read in over 100 different countries, with the largest groups of readers and visitors coming from the United States, Canada, Australia, United Kingdom, and New Zealand.
Marshall A. Brown, PCC, Career and Executive Coach
Marshall Brown is a career and executive coach with a passion for encouraging individuals and organizations to reach exceptional levels of performance. He is founder and CEO of Marshall Brown & Associates, an international coaching, training and leadership development company. His mantra is simple: Get clear, get focused, get ahead.
Marshall is known for producing results, a critical strength in today's world of work. Many of Marshall's clients have raved about his ability to help them to get unstuck and move forward.
As a personal brand strategist, Marshall is committed to helping people identify their unique promise of value. He encourages people to discover and use their true talents and passions in life to achieve their goals and stand apart from their competition. Marshall's personal brand attributes include: intuitive, connector, outgoing, sincere, honest and results oriented.
A recognized expert and thought leader in the career and executive coaching fields, Marshall has been featured on ABC News, Fox News, and WUSA Channel 9 in Washington, DC. He has published articles in Associations Now magazine, Association Trends, CEO Update, Bottomline News Briefing, and he publishes a monthly e-newsletter, It's All About You.