Professionals Dedicated to the Full Spectrum of Your Career: Transition Planning to Executive Resume Services
Riklan Resources is a leading career marketing and management company helping clients develop professionally and beyond, serving the New Jersey & New York City metropolitan areas, and throughout the United States and globally.
More than a professional resume writer, Michelle A. Riklan founded the company in 2004 with the goal of being a full-service career marketing company. Whether you're looking to make a career change or find a job after being let go, we will partner with you and get you where you need to be.
Riklan Resources Offers:
Professional LinkedIn Profile Writers & Expert LinkedIn Profile Development
Transition Planning for Career Changers & the Unemployed
Corporate Training & Workshops
Corporate Outplacement / Transition Services
Individual Career Services: Professional Resume Writer Services; Interview Prep; Job Search Strategy, Executive Resume Services
Leadership Development and Training Services
Not the Cookie-Cutter Approach: Professional Resume Writers & Services Tailored to Your Needs
Our career marketing services, executive resume writers, and professional LinkedIn profile writers delve deep into your individual or corporation's needs to get you the results you want. Our reputation is unprecedented: from helping our clients launch career paths to helping them land their ideal position. View a sample of our standout resumes, written and created by a professional resume writer (never you, the client!) and read about our clients' rewarding experiences when working with Riklan Resources on the testimonials page.
Executive Resume Services That Get Results
We prepare, guide, and coach our clients for win-win situations by carefully assessing individual and corporate service needs, and collaborating with our clients to develop effective strategies to achieve their goals. Whether you need professional LinkedIn profile writers, career transition planning, corporate outplacement, a coaching package, or a large corporate training program, we guarantee individualized attention and through that, you'll experience positive results.
With Riklan Resources, you can expect:
Resumes that land on the top of the pile.
Coaching that puts you ahead of the competition.
Training that ensures career advancement.
Contact Us Today: If you are ready to build your career brand or need executive resume services, contact us today.
Michelle A. Riklan, Managing Director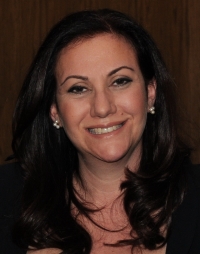 Michelle A. Riklan holds a B.A. in Theatre, English Literature and Speech Communications from Hofstra University. While beginning her corporate career, she pursued and completed a M.A. in Speech and Interpersonal Communications from New York University where she also served as an Instructor in Voice and Diction/Public Speaking. Utilizing her education and presentation skills, she continued a career path in Human Resource Management. Her generalist background is all inclusive, but her areas of expertise include employment, employee relations and training and development.
With a combined 25 years of in-house corporate and targeted consulting experience, Michelle services large corporations as well as small businesses and individuals in all aspects of human resources and career management. As a consultant, she has had the opportunity to work in a wide range of industries including advertising, publishing, healthcare, pharmaceuticals, financial services, E-commerce and much more.
Certifications/Training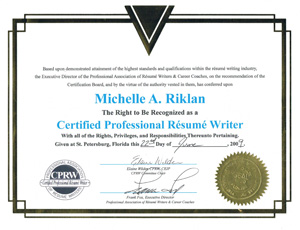 Michelle is an internationally recognized, award winning resume writer and a member of several prestigious career, training, and resume writing organizations. The resources and support afforded by being a member if this industry/community is plentiful and allow her clients to reap the benefits of these affiliations. Resumes created at Riklan Resumes are unique, tailored for each individual client and receive the individualized attention that such a service deserves.
As a Certified Professional Resume Writer (CPRW) and Certified Employment Interview Consultant (CEIC), Michelle has written hundreds of resumes and coached clients through all phases of the job search. Her resumes get results!
As a trainer and facilitator, Michelle provides her corporate clients with multiple options for engaging and interactive programs. Her positive reputation has been earned by her ability to work with organizations to identify their training needs, and to then deliver customized training that has an affirmative impact for both the employees and the company.
Michelle's training as a DISC administrator and Myers-Briggs assessment administrator is a benefit to her clients to gain insight into a person's behavioral style, which impacts a client's chosen career path. She works with her clients to identify specific talents, capitalize on a client's talents and his/her potential and continuing value to an organization and offers tools to improve interpersonal skills and interviewing performance.
Memberships
Michelle is a proud member of the Society of Human Resource Management (SHRM), American Society of Training and Development (ASTD), Professional Association of Resume Writers/Career Coaches (PARW/CC), The National Resume Writers' Association (NRWA), National Career Development Association, (NCDA) Career Thought Leaders (CTL), and Career Directors International (CDI).
Riklan Resources, LLC. is certified as a women's business enterprise through the Women's Business Enterprise National Council (WBENC), the nation's largest third party certifier of businesses owned and operated by women in the US.