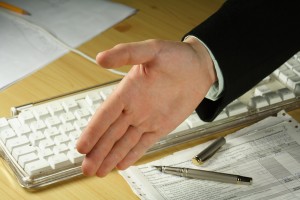 According to a recent study from RiseSmart, about 40% of companies don't have a severance package for employees. That's ironic, considering how many companies keep touting their dedication to their employee's well-being and motivation.
Many states don't require companies to provide a severance package to displaced employees, but from a long-term stand point, it makes sense to do so. Protecting your public image, avoiding claims for unemployment benefits, and re-hire possibilities are just some of the reasons to implement a package.
Creating a good severance package and conserving your company's resources during tough times is a tough challenge. That's why you need to plan ahead — Way ahead.
Here are 5 Easy Tips for Creating a Severance Policy:
1. Don't Wait Until a Layoff Happens
It's hard to make tough choices when the world is crumbling around you, so don't wait until three months into the layoff. Planning ahead ensures that you can dedicate enough funds to cover the severance pay of would-be displaced employees, put policies in place, check that you're not violating any labor laws, and communicate the policy to everyone.
2. Ensure the Severance Package Meets Your Goal for Providing It
Why are you providing a severance package in the first place? Your answer to this question will determine the costs and included benefits of the package.
Consider your motives:
Take care of employees
Avoid burning bridges with good employees so you have the potential to re-hire them
Avoiding claims for unemployment benefits and limiting your liability
There's no one-size-fits-all rule in creating a severance package. The best you can do is align your investment with your desired outcome.
3. Come Up with a List of Benefits To Include (Money is Just Part of it)
Money: In general, the amount is equivalent to 1-2 weeks of the employee's salary for each year they worked with you.
Health insurance: According to the COBRA law, employers are required to give displaced employees the option to continue their group health insurance on their own. It doesn't require you to cover their health insurance after the employment contract is terminated. The law differs per state, however, so contact your local insurance department to make sure.
Recommendation letters: It won't cost you anything to give displaced employees a good recommendation, so don't be stingy on this.
Outplacement: Help displaced employees get back on their feet by offering outplacement services such as career counseling, resume makeovers, and interview coaching.
4. Create an Official Severance Policy
Document the whole procedure for claiming a severance package. Include who is qualified to receive a package, and the needed documents for the claim, within the documentation. Identify the different severance packages according to an employee's role and tenure.
5. Make it a Part of Your Employee Handbook
Severance packages are not required, so I think it's justified to call it an employee benefit. Let new and existing employees know this up front in order to minimize speculation about severance pay when a layoff happens.
Offering a severance package to displaced employees communicates your investment in their professional interests, one that extends even after their employment with you ends. Creating a policy, on the other hand, ensures that everyone gets the benefits you intended as quickly and pain-free as possible.