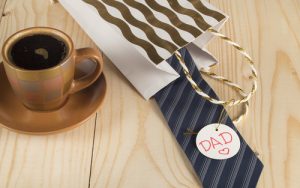 As a manager or supervisor at your workplace, you're responsible for more than managing the workload, assigning duties, and giving feedback to your team. You're also responsible, at least in part, for their well-being.
Why?
A happy staff member is a productive staff member, and one who will call in sick less often, take fewer personal days, and be more likely to stay with your company. This saves you money in the long run.
While you likely do something to celebrate the mothers at your work for Mother's Day – whether it's with coffee and muffins or a simple, "Happy Mother's Day," greeting, it's also very likely that the dads at your company are overlooked.
You're not alone – fewer gifts and cards are purchased for Father's Day than Mother's Day.
Still, it's nice to recognize the fathers in your office.
Here are some Ideas to Celebrate this Overlooked Event at the Office:
Free Food
Food is the best way to anyone's heart. Whether you're bringing in a round of coffee in the morning, or a box of doughnuts to a meeting, be sure to bring a little something on Father's Day. It's low-key, cheap, and it will be much appreciated. And it won't look like you are going overboard.
Bring a Small Gift for the Dads in Your Office
If you want to do something a little more tangible and permanent, why not give the dads in your office something with the company logo that they can use? Business-card holders, pens, stress balls, mugs, nice note pads, leather portfolios, and money clips are all things that business people can use more of.
Want something dad can use in the off-hours? How about a baseball hat or movie passes? These things won't cost much, but the sentiment will be appreciated.
Host a Family Picnic
Father's Day conveniently takes place during the month of June, right in the middle of nice picnic weather. Invite the office to bring their families and spend the early afternoon roasting weenies and grilling burgers on company property, or in a nearby park. You can even do it at home by hosting the dads in your team. To cut costs, you can combine this with your company's annual picnic, so that it doesn't cut into the budget too much.
Give Them the Day Off
Nothing says "Happy Father's Day" like a day or an afternoon off, so that dad can spend time with his brood, or hit a few balls on the driving range.
It doesn't have to take a lot of money. All you need is a little creativity and effort. But make no mistake – your efforts will be appreciated and remembered for months to come.