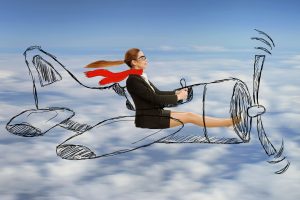 In today's world, women are a vital part of the workforce and many have prominent roles in most industries. There are many fields and areas that are growing in terms of representation by women, including civil engineering, law enforcement, law, and medicine.
This month marks the 30th anniversary of National Women's History Month, which Congress passed in 1987.
In honor of Women's History Month, here are five tips from high-flying women for women.
Keep looking for opportunities
Back in the day, women (and men) worked at one job until it was time to retire. Not today. It is estimated that young people entering the workforce today will have up to eight careers in their lifetime. That's careers, not just jobs or managers. Don't just settle for something because it's there. "Keep your eyes peeled for great opportunities," suggested Mashable CMO, Stacy Martinet.
Come up with your own definition of success
Even if others have said that you have made it, don't take their word for it. Ask yourself what you want from your career and your life, and aim for that. "Everyone's definition of success is different," said Zain Haboo, Senior Director for Digital and Multimedia Strategy at the United Nations Foundation.
Someone may want to be a manager, but you may want to aim higher, or in another direction, like being your own boss, or working in a philanthropic environment.
Love your work
Just ask 360i CEO Sarah Hofstetter, who said it's important to love what you do. It's easy to go to work every day when you feel passionate about your job.
Find what you love – this could take a while – and work on being the best in that field, whether it's engineering, auto design, medicine, or makeup artistry.
Don't waste time doing things that don't contribute to that ultimate goal. Remember that you may have to take a step back – like taking an unpaid internship – before moving forward, but if it contributes to your end goal, it's all worth it.
Don't (ever) give up
Many of the most successful people, both men and women, have failed numerous times before they found success. Remember that perseverance is vital when it comes to success. Don't be afraid to fail while trying to reach your goal, said Reshma Sauiani, who is the founder and CEO of Girls Who Code.
As long as you learn from your mistakes and try not to make them again, it's all worth it. There will be twists and turns and bumps in the road. Just keep your eye on the prize and know that every step gets you closer to your goal.
Help other women and let other women help you
If you're just getting started, consider finding a strong female figure in your industry to be your mentor. If you are mid-career or further along, find someone to mentor and pass your skills along. Whichever boat you are in, you will have something to learn, and the relationship will be mutually beneficial. Women need to boost each other up. While opposite-sex mentorships work well too, same-sex mentoring relationships are empowering because women tend not to feel threatened by other women, and they can help to promote each other.