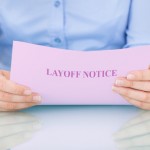 Times are tough when you're on the receiving end of a layoff notice. Things might be chaotic in the office, and your direct manager or HR may or may not be able to assist you every step of the way. I created this checklist with that in mind.
Please note, however, that this list isn't all-inclusive and that the chronological order may be different, based on your employer's protocols.
You receive an official layoff notification letter from your manager.
Your manager will explain the reason for the layoff and why you're part of the selection.
You'll be asked to return any work-related equipment, software , paraphernalia, and information, such as but not limited to:

Company credit card
Company laptop or tablet
Company cell phone
Locker and/or office keys
Parking permit
Employee handbook
Identification card
Company contact list
Your email access and other computer access codes
The HR manager assigned to handle your case will contact you after they received a signed copy of your layoff notice. He or she will discuss what happens next, including:

Layoff procedure: The forms you need to complete, who you need to talk to, and other requirements
Your eligibility for severance pay and how that amount is calculated
Schedule and claiming procedure for your last paycheck
An explanation of how your last paycheck is calculated
How to file for unemployment benefits
Company provided job-search tools
How to request a formal recommendation letter
Your eligibility for outplacement services, if any
Confirm the bank account details for your final pay
Confirm your address on record, usually the one on your W-4 form
Notice for continued health insurance (COBRA)
Information regarding your 401(k) plan
Continuation or termination of your group life or disability insurance
Note: Make sure they have your correct address, because that's where your W2 form and other tax forms will be sent.
You can verify the items to be included in your last paycheck on your own, or consult either your manager or HR. Some items to be included in your final pay computation are:

Unused vacation credits
Unused sick credits
Unpaid bonuses or commissions
Comp time
Tenure bonus
Unpaid basic pay
Company stocks, if any
You should also confirm whether your group health insurance will be terminated on your effective layoff date, or if it will continue until the end of the month.
Your exit interview can be conducted either by an HR representative or a hired outplacement group.
If your employer provided outplacement benefits to laid off employees, you will be eligible to some of these benefits:

Resume and cover letter writing
Job-interview coaching
Career coaching
Job portals
Networking groups
There you have it, a list of the important things you shouldn't forget during a layoff. Again, this list isn't all-inclusive, as there may be benefits and procedures specific to your company or job title.