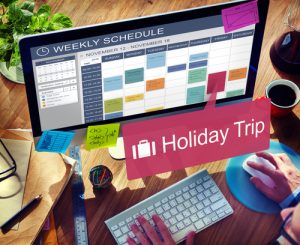 Maybe you're a newbie in your office, or maybe you just drew the short straw. Either way, you're stuck working this coming Thanksgiving. It's a done deal. Nobody will trade shifts with you – after all, who would want to? They are just breathing a sigh of relief that it's not them – and it's written in stone on the schedule. So what do you do?
Don't despair – it happens to the best of us. But that doesn't mean that you can't make the best of it.
4 Tips to Cope with Working during Holidays
Maximize your time in the office.
Since the office is likely down to a skeleton staff, you can work undistracted by phone calls, people popping by your desk and people asking for things.
Work as hard and as fast as you can to clear your plate and possibly even get ahead. That way, you'll have an easier time of it when the others come back to work.
You'll reduce your stress, too. You'll feel much better about being at work if you make the most of your time there. As a bonus, the time is guaranteed to go by much faster when you're busy.
Bring the holidays to work.
If you can't make it to the festivities, bring the holidays with you to the office! If it makes you feel better, try to play some holiday music and bring in some decorations for your desk. Drink your coffee out of a festive mug and go out for a gingerbread latte at coffee break time.
Negotiate with your boss.
Someone has to do it. Sometimes, working on a holiday is unavoidable. The world can't shut down for the holidays, so someone has to be the hero to keep things moving.
Try negotiating with your boss. Perhaps your manager will allow you to work from home, cut the shift short, or get another day off at the end of the holiday to make up for it.
Celebrate at another time.
Don't be too sad – just because you're working on one special day doesn't mean the entire holiday is ruined. If you're stuck at your desk over Thanksgiving, see if your family can accommodate you by joining you for Thanksgiving dinner earlier or later. Friends and family with a block of time off for the holidays are often happy to accommodate if your schedule is unforgiving.
Don't Feel Sorry for Yourself
When you're lonely, bored, and trapped at work, try to stay away from Facebook and all the happy photos of your friends enjoying the work-free holidays. Instead, think of the positives in this. You are making good money (And possibly overtime, or a holiday rate of pay!) and most importantly, keeping your boss happy (which is good for your career in the long run).