National Career Summit
Silver Package
The Silver Package includes 5 audios from our Career and Job Experts, plus a print copy of the 101 Great Ways to Compete In Today's Job Market book.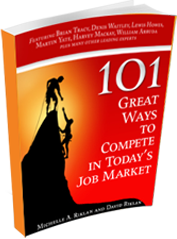 Get this program for just $20 right now!


Michelle Riklan
Resume Writing 101

Debunk the myths and misconceptions of what a resume "should be".
Understand the 5 basic strategies used to develop a compelling resume.
Learn how a resume is truly a marketing tool, and how to create one that will sell you to a potential employer.