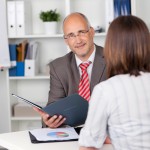 You've spotted a posting for the job of your dreams. You decide that life is short, you're ready for new challenges.
You send out your resume and a cover letter, and hope for the best. Lo and behold, you get an interview! You're excited.
But getting an interview usually means jitters and anxiety. After all, you really want the job, so a lot is at stake.
Deep breaths – with our help, you've got this. Here's your guide to beating the nerves that come with getting an interview.
The Zen Strategy of Calming Yourself before an Interview
1. Check Your Posture
Posture has the power to change your state of mind. When you slouch, what happens? Your mind and your self-confidence are affected, aren't they? You feel small, inferior and unprepared.
Now stand up straight. You'll find that your confidence rises. When you improve your stance, you feel better about yourself – and others will notice a change in you. Throw your shoulders back, put your hands on your hips, and practice a firm handshake. You'll find that others will treat you differently –in a good way.
2. Use the Power of Music
Music has the power to influence your feelings. Have you noticed that when you listen to high-energy music, you get the urge to move faster? Your heart rate goes up, your attitude is brightened, and your body starts to move with the beat.
That's why people listen to this kind of music when they exercise. The opposite happens when you listen to familiar, soothing, tranquil or instrumental music. It puts you in a more relaxed state of mind. Try putting a CD of Baroque, Classical, or Romantic-era music in the car while you drive to the interview.
3. Hydrate with Water
Skip the coffee, which can dehydrate you and stretch your already stressed nerves. Drink a tall, refreshing glass of water instead. While you're at it, run cold water over your wrists and on your neck to cool the blood. It will help you feel more relaxed.
4. Eat before the Interview
Never go to an interview on an empty stomach. You'll feel jittery and a bit light headed because of hunger. Grab a light snack – a bowl of cereal, some crackers, fruit, or a sandwich.
5. Remember, Interviews are a Two-Way Street
It's not just you being interviewed. You're interviewing your potential employer, too, to see if the job is a good fit for you. So don't feel that you are being interrogated – ask them questions right back.
Asking questions makes you stand out. It will make you look like an assertive applicant who knows what you want, and that you're truly interested in the job they're offering.
Of Course, Be Prepared
All the tricks and tips in the world won't replace actually being prepared and knowing your stuff. Read up on the history of the company, know what the job entails, and have answers ready on why you would be a good fit for the company.
Good luck!