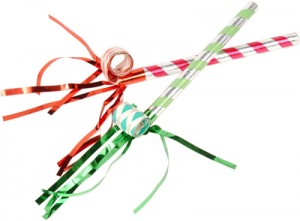 It's that time of the year again! Parties and gatherings everywhere, which means another Holiday party at the office.
Don't think of this as a perfect opportunity to wine and dine, or flirt with that cute guy from accounting. It's not your family or friends holiday reunion after all.
Office Party Etiquette Guide 101
Don't Bring a "Plus One," Unless the Invitation CLEARLY Says So
Don't bring a date unless the invitation specifically states "YOUR NAME and Guest." More importantly, "guest" doesn't translate to "anyone," as children and babies aren't ideal guests in such gatherings no matter how adorable or well-behaved they are.
Bring your kids only if the invitation includes their name or states "and family."
Don't Wear Out Your Welcome
Arrive early enough that a few people are already there, but not so early that you're the first one in the room. Don't be the last to leave, either.
Stay long enough to eat and talk to a few people, including your boss and some folks from other departments. If you're really in a hurry, try and stay at least an hour so your attendance doesn't look obligatory.
Don't "eat and run," unless you want to give the impression that you only attended for the free dinner.
Speaking of Eating
You don't need a 16th century monarch's etiquette, but do refrain from piling your plate with too much food. If you really want a second helping, wait until everyone has been served.
Have a light meal before the event, so you don't look ravenous when it's time to eat. Remember, you're there to have fun and get to know other people.
Resist the Lure of the "Free Bar"
Many office parties have free flowing wine and beer. But please, do not take this as a personal challenge to beat your college drinking record.
Drink according to the party's atmosphere. If it's a formal party, stick to wine, champagne or perhaps a martini. Ordering a margarita, when everybody else is enjoying a bottle of red will make you look out of place.
When the Party Gets Hot…
Sure, office parties can get wild with all the dancing and singing. Even so, the only acceptable items to remove are your scarf, gloves (if any) and coat. The same goes with formal events.
Ladies, if your foot is starting to hurt because of your high heels, please don't go barefoot. Pack a pair of flats or comfy sandals and switch into these instead.
Lastly, Don't Leave without Thanking Your Host(s)
In this case, I'm referring to the emcee and your boss. Thank the emcee for a wonderful party and wish your boss a happy holiday before taking off. No need to be overly formal.