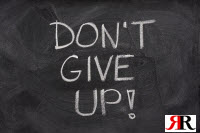 Have you given up or are you on track with your New Year's resolutions?
According to a survey published on Scranton University's Journal of Clinical Psychology, only 45% of Americans usually write resolutions and, out of this population, only 8% achieve what they've set out to do.
I know the numbers are quite depressing, but there's no reason you can't be a part of the successful 8 percent. Despite the stagnant job market and economy, I say there's still a chance to make 2014 your best year yet.
Make 2014 the Year of Your Career
Don't give up on finding a new job, because even if they say there are 3 Americans applying for every 1 job opening, many established companies and start-ups are hiring new people for unadvertised positions.
January marks the beginning of 2014 with many challenges. Yes, that's true. However, if there are many challenges, it also means there are many opportunities – for both job seekers and the currently employed looking to jump ship or get a promotion. You just have to be ready to recognize the opportunities and act on it right away.  
These opportunities may not be obvious, it may not be a job lead or an interview, but it may come in the form of a friend asking for your advice on a business venture, an event where you could meet a potential employer, or even a friend of a friend who knows someone in the company you're targeting. My point is, if you keep your eyes open, you'll see opportunities everywhere.
2 Weeks in, 50 Weeks to Go
Only 2 weeks have passed since the start of 2014. It's way too early to give up because you have plenty of time to plan and take action. Even if you still don't know what you want to get out of this year, you still have 50 weeks to figure it out and get started. It's never too late.