From hair to clothing to houses, everything is subject to trends.
In the job search world, resumes are no different. Resumes go through trend cycles too.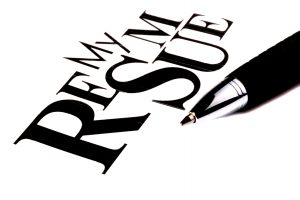 Forty years ago, resumes were pages upon pages. In the last 10 years, resumes have gone down to only two or three pages, as nobody has time to scan through a five-page resume. Today, resumes are succinct.
Brevity can be difficult, and resume writing is a definite skill. If you haven't updated your resume for a while now, be prepared for some big changes!
Is Your Resume Outdated?
Resumes now have social media links.
Did you include your social media links on your resume? Of course, we're not talking about your Tinder link, but the links to your professional career-related social media sites, such as LinkedIn and Twitter.
Make sure your profiles are professional. Why should you include these links? They show who you are as a person and as a brand. These sites show that you know what's happening in your industry, and that you are current and tech-savvy.
Make sure your social media links are devoid of personal stuff. Even if you don't provide direct links, you should assume that hiring managers at your prospective new job will run a Facebook and LinkedIn search on your name.  If you don't want your past to come back and haunt you, make sure your accounts are devoid of any party pictures.
Don't list all the schools you've attended.
If you've attended university, it's assumed that you've also graduated high school.
Since resumes are cutting out all unnecessary information, include only higher education and the schools that are relevant to your application.
Show only the schools in which you've earned your highest credentials. Include specialty certificates if relevant. Listing an arts academy in which you've spent a few months is not necessary if you are applying for a job as a professional banker.
Incorporate visual representation of data.
Include a chart or graph to show industry keywords, skills that you possess, areas of expertise, and more. If you have metrics to share, a chart or graph will show these off – and show you're tech-savvy as well.
Leave out your street address.
If you're considering relocation, do not include your current street address, because it may be a factor in the hiring committee's decision when shortlisting interviewees. On the other hand, having a street address may legitimize your resume, in some people's eyes.
To Follow or Not to Follow?
It's your decision in the end. But if your current resume isn't winning you any interviews, maybe trying something new wouldn't hurt.