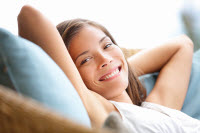 If you graduated May this year, is it possible that you missed the boat by taking the summer off from interviewing?
I know you're worn out, what with all the exams, internships and the thesis you had to complete. But it's so tempting to take a few months or a year off to unwind after graduating from college.
You can't just up and go, right? What would happen to your career prospects if you take a vacation?
There's been a lot of debate about this subject, so let me set the record straight. There's no right answer to this question so don't stress it. You didn't miss the boat if you took the summer off from job hunting. Both actions have pros and cons, so it's up to you to decide what to do based on your priorities.
Unconventional career choices, like taking a vacation or volunteering to teach in South America instead of applying for jobs, could be productive. Besides, expanding your horizons will help you learn about yourself, which leads to better decision-making when the time comes for you to choose your career path.
Some employers even deem experiences like this valuable, because it exposes new graduates to the real world-to challenges and situations they wouldn't otherwise experience in the sheltered confines of university.
I took a vacation after graduating. Now what?
Of course there are several disadvantages to taking summer off, the biggest of which is missing out on job opportunities posted during the summer. You'll also have to work twice as hard to rekindle old connections with colleagues, professors and the companies you've interned in.
Don't fret. You still have a chance to get a job this year!
Job applications are posted all year round. Yes, lots of jobs are posted during summer, but that's not true for all companies. Some companies slow down on hiring during summer because their recruiters are on holiday, while others don't follow the calendar year when it comes to recruitment. Even if you didn't apply for jobs from May to August, you'll still see plenty of job postings in September, when everyone's back to work.
Meanwhile, you still have time this month to prepare for upcoming job applications and interviews. Use this time to do the following:
Update your resume. Include volunteer experience, extra skills and side-jobs while on vacation.
Reconnect with your professional contacts. Email your professors and work contacts. It doesn't have to be a formal email, just say hello or let them know that you're back from vacation. You can also ask them for a recommendation or referral.
Practice interview skills. Taking the time off means your professional conversation skills might be a bit rusty. Practice your response to typical interview questions with a friend, or in front of a mirror.
Look up your target employers. Study them and look for job openings.
Look up recruiters who serve your industry. Send them your resume and get in touch, so you'll be first in mind if they have an opening that matches your skills.
Sign up on job portals. Receive alerts for jobs that match your qualifications.

You didn't miss the boat. Let's just say these boats come and go, so it doesn't matter if you're a bit late to the party.